back
Future-oriented leader
We are actively developing our international distribution network in such countries as Romania, the Balkan States, Hungary, or Ukraine. Our tools make work safer, more comfortable, and faster for experts in all industries. Our partners perceive us as trustworthy, open to collaboration, and helpful. We share experience to work on the best solutions together.
Direct presence on foreign markets allows us to better adjust the offer to the demands of recipients from various parts of the world.
The group also includes Baza Narzędziowa, a tool store in Gdańsk, and Hurtownia Narzędzi Visła, a tool wholesale outlet in Bydgoszcz. The domestic companies strengthen our position in specialist recipient segments.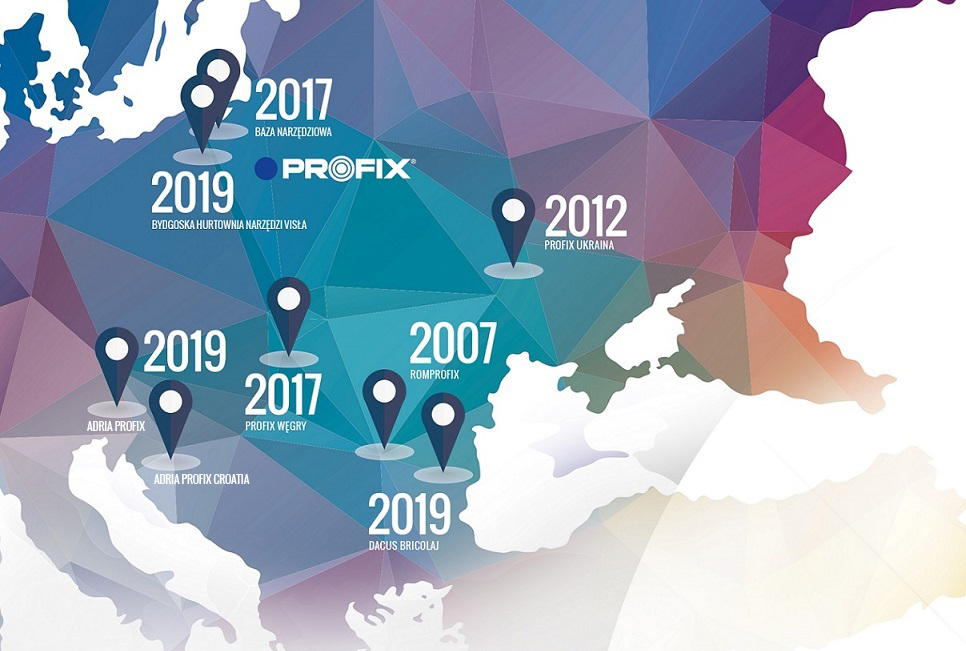 PROFIX
Profix Sp. z o. o. owns 5 private brands of hand tools, power tools and personal protective equipment, including Proline, the most recognizable hand tool brand in Poland, Lahti Pro, a dynamically developing work clothing brand, and Tryton, a brand offering solid and ergonomic power tools. The Profix sales offer currently includes 20,000 various products. Recent years have seen a truly dynamic development of the group's business on the European Union markets and beyond. The foreign investment activity of Profix was noticed and appreciated in the Investor category of the Polska Firma – Międzynarodowy Czempion (Polish Business – International Champion) competition.
ROMPROFIX AND PROFIX HUNGARY
Romprofix is the very first international subsidiary of Profix Group. It was established in 2007 and since then has successfully distributed our tool and workwear brands in Romania and the nearby markets. It has its own logistics centre of 5,000 square metres. In 2017, we established a sister company, Profix Hungary, which also uses the Romprofix Logistic Centre for its business.
PROFIX UKRAINE
It was established in 2012 to distribute the Proline, Tryton, Lahti Pro, and other brands in Ukraine, mostly as a wholesaler to large partners.
BAZA NARZĘDZIOWA
Baza Narzędziowa is a store focusing on tools, power tools, and safety clothing since 2017.
It is aimed at professionals looking for a one-stop-shop with high-quality products and expert advice.
ADRIA PROFIX SLOVENIA AND ADRIA PROFIX CROATIA
It was started in 1968 to provide for the Balkan market. Its position in tools and power tools distribution in the region is well established. It serves over 900 buyers in Slovenia, Croatia, Bosnia and Herzegovina, Macedonia, Serbia, and Kosovo. The company has belonged to Profix Group since 2019.
VISŁA TOOL WHOLESALER IN BYDGOSZCZ
For over 25 years in the industrial tool market, it has been focusing on machining tools and an extensive machine accessories assortment. Being a distributor and agent of more than 50 reputable international brands, it imports high-quality workshop, cutting, grinding, measuring, and other tools. It joined Profix Group in 2019.