back
Support
We have carried out projects with sportspeople for many years now. Sport means positive emotions, joy of life and fitness. We believe that joined forces in this area produce real bilateral benefits.

Together with the Visła tool wholesale outlet in Bydgoszcz, member of the Profix capital group, we are the naming rights sponsor of the Bydgoszcz male volleyball team, BKS VISŁA PROLINE BYDGOSZCZ. We aim high in sport and business. We also join many smaller sponsorship projects, mainly in power sports – especially motorcycle speedway. We are proud to have had Team Speedway World Vice-Champion Jarosław Hampel ride in our colors since 2011. Proline is also a sponsor of Żużel (Speedway) – a 2021 movie about that sport, directed by Dorota Kędzierzawska.
Charity
Over the recent years we have implemented a campaign to quit printed invoices together with our business partners. Every sheet of paper saved that way in the first year of the campaign translated into a book page for children in need. The campaign was carried out in collaboration with the Magia (Magic) foundation and resulted in providing children's homes and pediatric wards in hospitals with 50,000 book pages.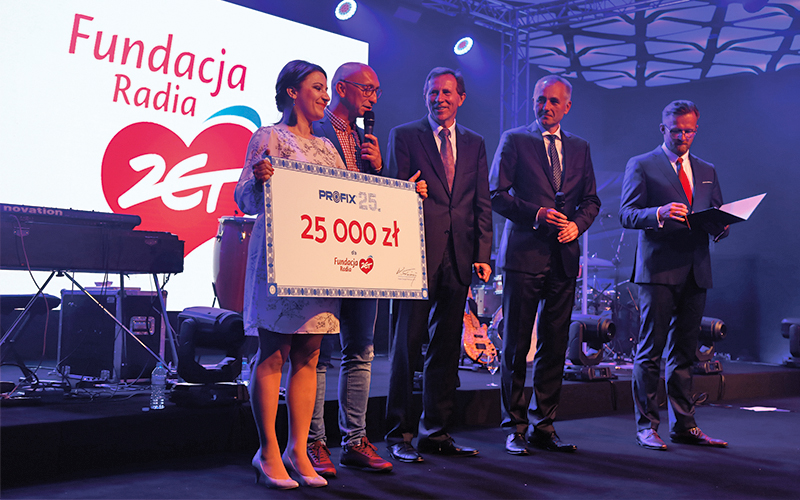 We have collaborated with the TVN Foundation and the Radio Zet Foundation on the organization of charity projects for children in their care. Our employees often initiate and participate in charity projects such as fulfilling the wishes in the letters to Santa written by children supervised by social welfare centers.
We also react to the needs of our environment as they arise. During the pandemic we actively supported health care facilities in collaboration with local self-government bodies, providing the personal protective equipment necessaryin the work of doctors and other medical professionals.
A helping hand in a tough time
PROFIX is actively working in the face of tragedy of war in Ukraine. Due to the company's logistic competences, we organized transport of several dozen tons of humanitarian aid for Ukraine from Portugal and Switzerland in the cooperation with "Czajnia" Association and "Amicizia Dei Popoli" Foundation from Lugano region. These transports reached the border in no time and were transferred to Ukraine in order to support those in need. As a producent of equipment and protective clothing, we also react on specific reported needs – that's why we donated a power generator for the Tent of Hope (Namiot Nadziei) from the UA/PL border crossing in Zofiówka as well as a batch of several hundred reflective jackets, disinfectants, and protective masks for scouts from ZHP, who serve on all passenger stations in Warsaw. Thanks to this, volunteers are perfectly visible for those in need and they themselves work in slightly more comfortable conditions.